Ray CDJR Grand Re-Opening Recap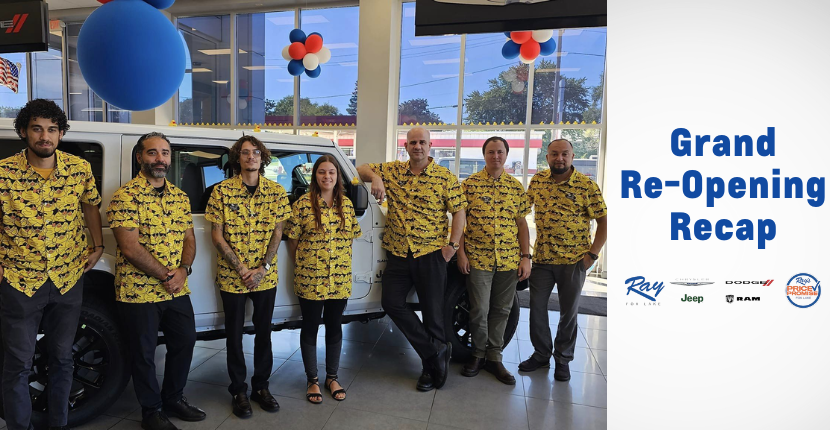 Ray CDJR is excited to announce our 2023 Ray CDJR Grand Re-Opening. The community of Fox Lake came together in full force on Saturday, September 9th, 2023, to celebrate the Grand Re-Opening of Ray Chrysler Dodge Jeep Ram. It was a day filled with fun, prizes, and a chance to experience the dealership's brand-new and updated showroom. Learn more about the event below.
2023 Grand Re-Opening
The Ray CDJR Grand Re-Opening was aptly named "Get Ducked," a play on words that tied into the rubber duck theme for the raffle. From the moment visitors arrived, they were greeted by our Ray CDJR team where they could join the raffle by picking a duck. If the duck that they picked was lucky enough – they would win an awesome prize.
Prizes Galore!
One of the highlights of the day was undoubtedly the incredible prizes that were up for grabs. Attendees had the opportunity to participate in various contests and games, with the chance to win some fantastic prizes. For those fortunate enough to discover a winning yellow rubber ducky, the possibilities were exhilarating, including the chance to snag complimentary tickets to Cubs, Sox, or Bulls games, a crisp $100 in cash, a complimentary oil change, and the grandest prize of all – a whopping $1,000 in cash!
The New and Updated Showroom
As the community enjoyed the festivities, they also had the chance to explore the dealership's revamped showroom. The updated facility showcased the latest models from Chrysler, Dodge, Jeep, and Ram, all gleaming under the spotlights. Visitors could browse the extensive inventory and even take a test drive to experience the cutting-edge features and performance of these vehicles.
A Heartfelt Thank You
The Ray CDJR team pulled out all the stops to ensure that this grand re-opening was not just a celebration of our updated showroom but also a way to give back to the community that has supported us for years. We would like to thank everyone that was able to make it to our Grand Re-Opening. To learn more about future events, follow our Ray CDJR Facebook page. We are proud to be your Jeep dealer near me and appreciate all of your support. Visit our Fox Lake Jeep dealership today to browse our wide selection of vehicles.