5 Tips to Keep Your Car Organized & Clean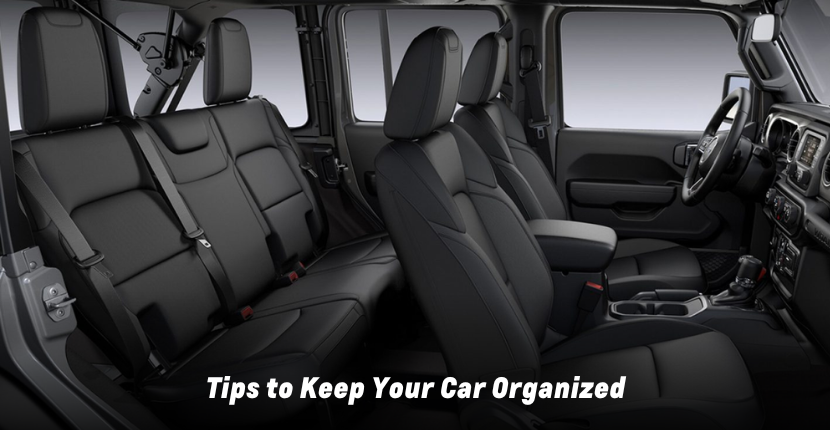 As the seasons change, it's a good time to clean out the winter detritus from your car—like the winter weather clothing, drink bottles, snow brushes, and other items that have probably built up over the past several months. It's annoying to have to spend a lot of time cleaning out your vehicle. You can do a few easy things to keep your vehicle clean and organized so you don't have to do big cleanouts every few months. Check out our Ray CDJR tips to keep your car organized below! You can also schedule your car detail and car wash now at Ray CDJR Fox Lake!
Car Organization Tips
Use Storage Containers: A great way to keep things organized is by using the storage containers that come with your vehicle. The Ram storage compartments are especially useful for things you keep in your car long term, like sunscreen, an extra jacket, and a first aid kit. Using storage containers keeps things in their place and out of sight, helping with clutter and allowing you to find what you need when you need it. 
Wipe Your Shoes: A simple way to avoid hours of vacuuming and washing your floor mats is to wipe the bottoms of your shoes before you enter your car. Wiping them down gets rid of small pebbles, bits of grass, sand, or slush from snow. Having your passengers wipe down their shoes will add to the cleanliness of your vehicle. 
Stock the Glove Box: An easy way of keeping your car clean is to keep items you can use to quickly and easily clean up messes in your glove compartment. These items can include napkins or paper towels, sanitizing wipes, hand sanitizer, a rag, and more. It can also be helpful to keep a few plastic grocery bags to use as garbage bags, which is especially helpful for after you make a snack stop. 
Line Your Cup Holders: Cup holders are one of the hardest things to clean in your vehicle. At the same time, they are one of the easiest things to get dirty because they are magnets for crumbs and dirt of all kinds. To help with this, try using silicon cupcake liners or empty gum containers in your cup holders to help keep them clean. They'll catch all the debris that accumulates, and then you can easily remove them every so often. 
Avoid Eating or Drinking: One easy way to avoid crumbs, stains, and other problems is to avoid eating and drinking in your vehicle. Even if that's not possible, you can set rules to avoid spills and crumbs. For example, you can require passengers to keep their beverages secure while you drive or keep food in containers. 
Visit Ray CDJR! 
Looking for a Ram dealer near me? A premier Fox Lake car dealership, Ray Chrysler Dodge Jeep Ram offers a wide selection of cars to help make the buying process easier and as quick as possible. Some say that we, here at Ray CDJR Fox Lake, have the largest selection of new and used vehicles for sale among Jeep dealerships Fox Lake. Our staff is waiting to help put you in the vehicle of your dreams. Visit us to get your car cleaned today!