Is My Jeep Wrangler's Interior Water Proof?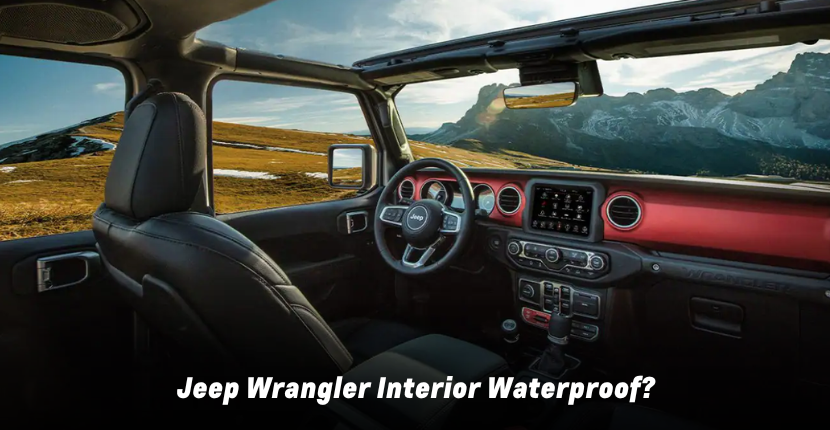 There's nothing better than summer driving in a Jeep. With removable doors, Jeep vehicles allow you to drive under the sun with the wind in your hair and the music blasting. While Jeeps are suited to all seasons, they really shine in the summer. And now, the Jeep's interior can be waterproofed so you can take it on all your adventures. Plus, with a high air intake, sealed electrical connections, and moisture-resistant body openings, you can traverse up to 33.5 inches of water to cross creeks, streams, and puddles with ease. Learn more about waterproofing your Jeep Wrangler interior now at Ray CDJR Fox Lake!
Enjoy Freedom with the Jeep Wrangler 
The 2023 Jeep Wrangler lets freedom roam. Tried, tested, Trail Rated, and true, the 2022 Jeep Wrangler is the original icon of adventure. Experience the legend and start your journey. You can conquer the impossible with the Wranglers' incredible capability. This is the most capable Wrangler generation ever. 
Designed for optimal performance on and off-road, the Wranglers' capability gives you the power to explore where other vehicles wouldn't dream to go. Rated for adventure, the Wrangler proudly wears the Trail Rated badge. To earn it, the vehicle must be capable of passing a series of grueling tests to prove its ability to withstand touch terrain, harsh conditions, and inclement weather. 
How To Waterproof a Jeep Wrangler
The hard top Wrangler models are fully waterproof, while the soft-top models are water-resistant but not waterproof. As long as it's not fully submerged underwater, and all electronic components don't get wet, your Jeep will be fine.
The best way to waterproof your Wrangler is to use a hard top. Even if you have the soft top, you can still take steps to waterproof your Wrangler. First, check to ensure that the inner wire tube aligns along the top frame of the Jeep. Then check the frame itself to make sure it hasn't worn away at any point. You can then use a soft waterproof sealant to help insulate the frame. You can also use weatherstripping to protect from any leaks or water from bad weather. Doing so will also keep your seats, dash, steering wheel, and the rest of the interior completely dry.
Driving Through Water 
So, can Wranglers drive through water? Yes! With the available Xtreme Recon Package, you get massive 35-inch tires straight from the factory. Available exclusively on Wrangler Willys, Rubicon, and Rubicon 392, these larger tires relevant the already legendary off-road capability to achieve Best-in-Class 12.9 inches of ground clearance, a 47.4-degree approach angle, 40.4-degree departure angle, and 33.4 inches of water fording depth. 
How To Drain Water From a Wrangler
Many Jeep Wrangler drivers are not aware that their vehicle features four drain plugs to get rid of excess water in the interior. They are located underneath the factory floor mats, and there are removable pieces of carpet above each of the drain holes. You can remove the carpet by hand. Then simply remove the caps on the drains to let the water flow out of the vehicle. Be sure to replace the caps securely. 
Visit Ray CDJR! 
Looking for a Jeep dealer near me? A premier Fox Lake dealership, Ray Chrysler Dodge Jeep Ram offers a wide selection of cars to help make the buying process easier and as quick as possible. Some say that we, here at Ray CDJR Fox Lake, have the largest selection of new and used vehicles for sale among Dodge Ram dealers Fox Lake. Our staff is waiting to help put you in the vehicle of your dreams. Visit us to find Jeeps For Sale Fox Lake, IL now!