Ray Auto Group Proudly Sponsoring Save-A-Pet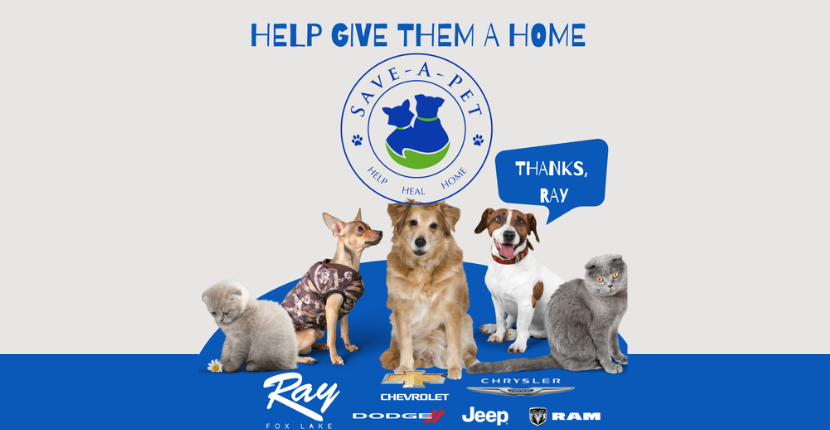 Ray Chrysler Dodge Jeep Ram in Fox Lake, IL has the largest selection of new and used vehicles for sale in Fox Lake, IL. We proudly serve the areas of McHenry, IL, Round Lake, IL, Ingleside, IL, Wauconda, IL, and Antioch, IL. We care about our community and believe giving back provides a powerful, measurable change to the areas we serve. That's why we're supporting a new organization: Save-A-Pet. Visit us to learn more about how Ray CDJR gives back with community involvement now!
Help, Heal, Home at Save-A-Pet 
Save-A-Pet is a 501(c)3 nonprofit organization and one of the largest no-kill cat and dog rescues in Lake County that operates a full-time adoption center. It provides a safe haven for abused, neglected, injured, lost, or animals that have escaped euthanasia.
Save-A-Pet will never put a limit on the amount of care it will provide for an animal and never give up on them. Thus, Save-A-Pet offers rescued dogs and cats the greatest opportunity for a second chance. It takes great pride in practicing our no-kill mission and in stewarding our donors' contributions; both of which have led to the successful adoption of over 66,000 dogs and cats.
Ray CDJR and the Community
Ray Chrysler Dodge Jeep Ram and Ray Chevrolet partnered to be a proud sponsor of Lake County's Save-A-Pet. Together, the dealers will be the 2023 Benefactor Sponsor. Through a 10,000 donation to the Save-A-Pet organization, we hope to make a difference in our furry friends' lives. 
We encourage the broader Ray CDJR community and Fox Lake community to join us in supporting Save-A-Pet. Every donation, regardless of the amount, goes directly to help, heal and house animals and allows Save-A-Pet to continue as a true no-kill organization. Your gift today gives an animal a better tomorrow! For other ways to give, you can also volunteer or adopt an animal with Save-A-Pet. 
Visit Ray CDJR! 
Looking for Jeep dealers near me? A premier Fox Lake car dealership, Ray Chrysler Dodge Jeep Ram offers a wide selection of cars to help make the buying process easier and as quick as possible. Some say that we, here at Ray CDJR Fox Lake, have the largest selection of new and used vehicles for sale among Dodge Ram dealers Fox Lake. Our staff is waiting to help put you in the vehicle of your dreams. Visit us to learn more about our community giving efforts or how you can support Save-A-Pet today!