How to Find the "Hidden Easter Egg" on Your Jeep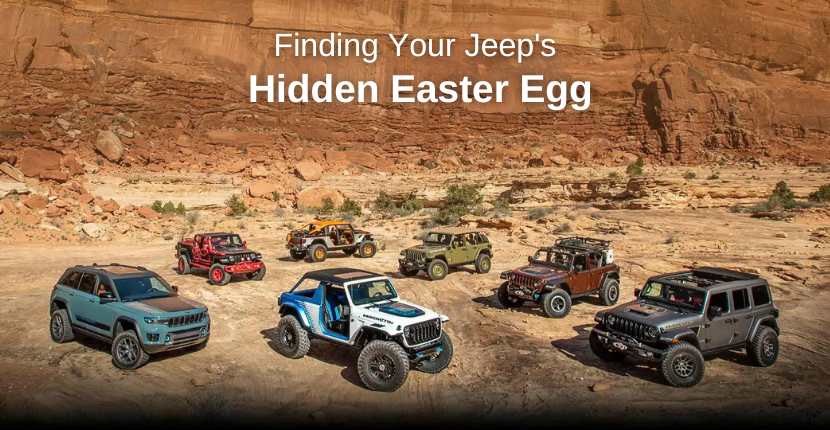 Get ready for one of our Jeep fun facts: every Jeep model since the 1990s features a little surprise. These are known as "Easter Eggs." Jeep Hidden Easter Eggs are not the colorful eggs you hunt for on Easter. They're hidden features added to each Jeep vehicle as a bonus fun surprise. Over time, Jeep has gotten better and better at hiding them, but we can help you track down the Jeep Easter Eggs in your Jeep vehicle. Learn more about all the great benefits of Jeep vehicles now at Ray CDJR in Fox Lake, IL! 
History of Jeep Easter Eggs 
Beginning in 1997, a designer working on the Jeep Wrangler, Michael Santoro, began searching for a way to leave his own unique mark on the vehicle. He wanted to "make it more Jeep." He finally came up with an idea. To add a hidden surprise, Santoro hid Jeep's iconic 7-bar grille design within the Wrangler's cowl—the space between the windshield and the hood. In the years since, this Easter Egg has become the popular and sought after one to find. 
So, do all Jeeps have Easter Eggs? The answer is yes! The manufacturer has confirmed that every Jeep that rolls out of the factory has its very own hidden Easter Egg. Visit your Jeep Dealership Near Me to spot some today!
Popular Jeep Easter Eggs
Here are some of the most popular Easter Eggs to find on Jeep models: 
Flip flops are hidden within the cowl of Jeep Gladiators. The summer shoes pay homage to Rick Pewe, an automotive journalist.

Some Jeep Gladiators feature the number "419" engraved into the rear. This is the area code for Toledo, Ohio, where the model is manufactured.

Lucky Jeep drivers might even find a lizard hiding under the windshield wipers, but this one is rare. 

Jeep Renegades often feature a spider saying, "Ciao, baby!" on the fueling door.

 The most common Jeep Wrangler Easter Eggs are Vintage Willys Jeeps, found on some windows and Jeep wheels.
Visit Ray CDJR! 
Looking for a Jeep dealer near me? A premier Fox Lake car dealership, Ray Chrysler Dodge Jeep Ram offers a wide selection of cars to help make the buying process easier and as quick as possible. Some say that we, here at Ray CDJR Fox Lake, have the largest selection of new and used vehicles for sale in Fox Lake, IL. Our staff is waiting to help put you in the vehicle of your dreams. As the top Fox Lake Jeep dealership, we've got you covered. Visit us to find the hidden Easter Egg on your Jeep today!