Ray CDJR Annual Food Drive Recap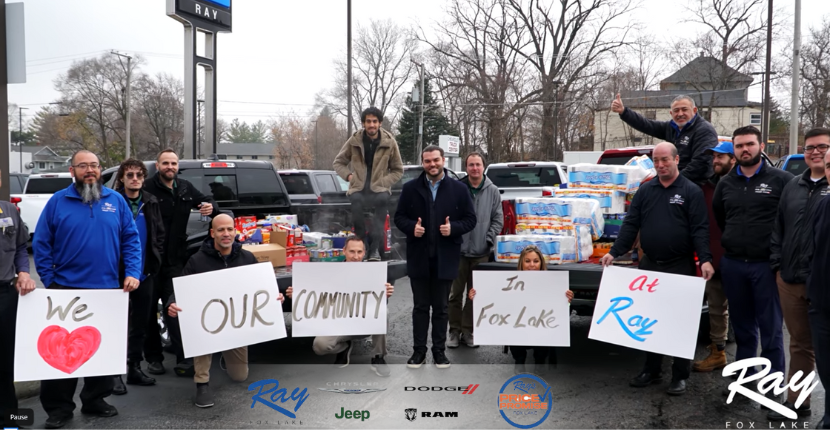 Each year the Ray Auto Group puts together a special food drive during the month of November to help collect food for the less fortunate. We have drop-off spots set up at the dealerships all month long to help collect as much as we can. We even kicked off this year's food drive early this year. All donations went to Grant Township Food Pantry, located in Ingleside, IL. What better time of the year to give thanks and help out our community for those in need. This year brings us to our 9th annual food drive!
This Years Results
We had been collecting all November long at both Ray Chevrolet and Ray CDJR. We are thankful for all of your support and contributions to the food drive this year! This food drive was a success because of all your help! We were able to collect and donate the following to Grant Township Food Pantry: 
Pancake Mix & Syrup

Peanut Butter & Jelly

Spaghetti Sauce

Cake/Muffin Mixes

Canned Pasta

Canned Chili

Canned Meat/Tuna

Canned Beef Stew

Canned Manwich

Canned Fruit

Hamburger Helper

Bag & Box Pasta

Cereal

Oatmeal

Jell-O & Pudding

Rice

Toilet Paper

Dish Soap
Thank You All!
The holidays can be a difficult time for families that are in need, and we feel the month of November is a great time for us to collect as much food as we can to donate to the less fortunate. Here at Ray Auto Group, we love to come together and make a difference in our community. We couldn't have made it happen without all of your help, so thank you again! Stay up to date with our upcoming events by visiting our website today. We hope you can join us again next year at Ray CDJR!