Ray CDJR Participates in 10th Annual Toys for Tots Event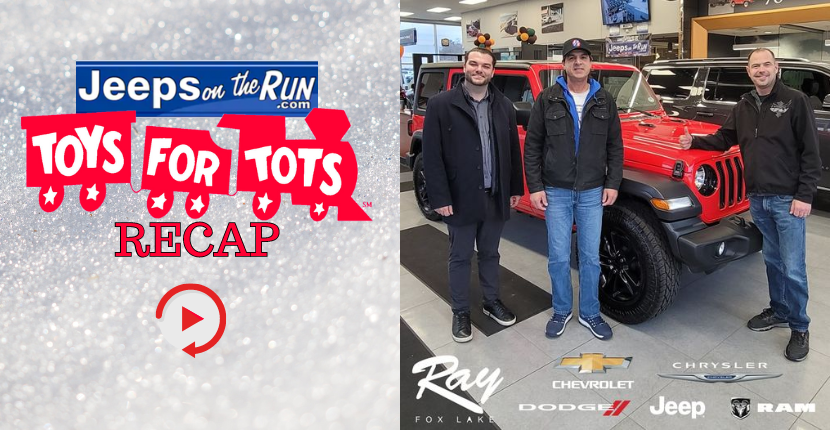 This year was the 10th annual Jeeps on the Run Toys for Tots Event at Ray Chrysler Dodge Jeep Ram. On December 4th, hundreds of Jeep owners came together at Ray CDJR to embark on a caravan to the Genesee Theater in Waukegan. Members of the community came together with the goal of gathering gifts and making a difference for children in need this holiday season. This was a very special year with it being the 10th annual event of Jeeps on the Run and the third year that Ray CDJR participated!
2022 Jeeps on the Run Event Results 
We filled two 53' semi-trailers and two seven-ton military trucks FULL of toys. 

Ten's of thousands of toys were donated.

The funds collected from the raffles went towards buying more toys that were able to fill ANOTHER box truck full of toys.

We wrote a check to Toys for Tots, Lake County Illinois for an additional $14,500 to assist in toy purchases they had to make prior to our event when they were short.

We will be donating $20,000 to Toys for Tots – McHenry County.
The Jeep Wrangler Winner
Ray CDJR donated a brand new 2022 Jeep Wrangler to raise money to support the Jeeps on the Run Toys for Tots cause. One lucky winner went home last Sunday with the Jeep and the money raised from the raffle tickets was donated to the Jeeps on the Run foundation to buy more gifts for children in need this holiday.
Thank You!
We would like to thank you all, we wouldn't have had the amazing turnout and load of donated toys if it weren't for our community helping out! We are so happy to have been part of such a great event and can't wait to do it all over again next year! Because of your help, holiday cheer will be spread to all this season. While sponsorships were down this year, the generosity of the participants made our 10th annual event of Toys for Tots the most successful one to date! This year's event was very smooth from start to finish- everyone complimented how well of a run it was and what a success its turnout was. After 10 years, we hit a home run on this one! To learn more about this amazing event, visit Ray CDJR online today!