How to Take the Top off Your Jeep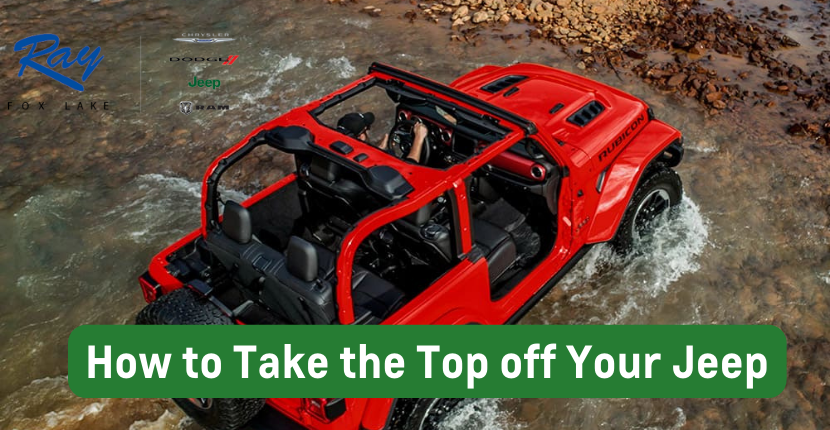 There's no better way to spend a summer day than driving a Jeep with the wind in your hair. Jeep vehicles have removable doors and tops, allowing you to drive under the sun with the wind in your hair and the music blasting. While Jeeps are suited to all seasons, they really shine in the summer. For help removing the top on your Jeep, visit Ray CDJR now! 
Prioritize Safety First 
While it's possible to remove your Jeep's hardtop by yourself, you should make sure you have the appropriate equipment to make the process as safe as possible. Jeep hardtops are big and bulky, so it's helpful if you have someone else to help you disengage and lift the hardtop. 
How to Remove the Hardtop 
The first thing you'll need to do to remove your Jeep's hardtop is removed or disconnect all the securing points. It's a good idea to label bags to organize all the bolts and connectors you use to make it easier to secure your hardtop later. Some Jeep hardtops come in multiple parts, so check your owner's manual to determine in which order each component needs to be removed. If you don't remove it properly, you could risk damaging its weatherproofing or securing ability. Do the same if you have a new Jeep model with lights or other electrical components because everything will need to be properly disconnected before removing your hardtop. 
After you ensure all connection points are disconnected or removed, you're ready to actually lift your hardtop off of your vehicle. The key to properly removing the hardtop is lifting it up clear off the supports. Once you lift the hardtop, shift it backward and away from the vehicle. This is where having someone to assist you will make it much easier and safer. Be careful not to drag the hardtop because it will damage both the hardtop and the body of your Jeep.
Get More Out of Summer with the Wrangler 
The 2022 Jeep Wrangler lets freedom roam. Tried, tested, Trail Rated and true, the 2022 Jeep Wrangler is the original icon of adventure. Experience the legend and start your journey. You can conquer the impossible with the Wranglers' incredible capability. This is the most capable Wrangler generation ever. 
Designed for optimal performance on and off-road, the Wranglers' capability gives you the power to explore where other vehicles wouldn't dream to go. Rated for adventure, the Wrangler proudly wears the Trail Rated badge. To earn it, the vehicle must be capable of passing a series of grueling tests to prove its ability to withstand touch terrain, harsh conditions, and inclement weather. 
Visit Ray CDJR!
Looking for a Jeep dealer near me? For over 65 years, Ray Chrysler Dodge Jeep Ram has been providing Northern Illinois and Southern Wisconsin drivers in areas like Fox Lake, McHenry, Round Lake, Ingleside, Wauconda, and Antioch with a dealership experience that is unrivaled. As your Fox Lake car dealer, we provide standout new and used vehicle selection, and quality auto service, and are dedicated to the community we serve. Visit us to learn more about enhancing your Jeep experience this summer!