How to Get Your Jeep Off-Road Ready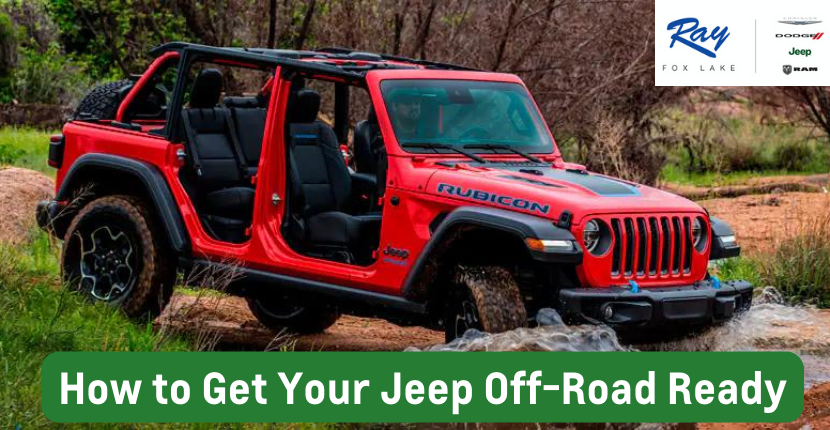 Doors shut to doors off, top-down to topless, Jeep Wrangler to Jeep Gladiator: Jeeps and off-roading is a tale as old as time. Since 2003, Jeep Wranglers have dominated the off-roading scene, bringing a whole new meaning to playing in the mud. Jeep diehards and casual consumers alike know and respect the power behind every Jeep vehicle.
Have you taken your Jeep off-roading? And if you haven't, why not? Jeeps are engineered and highly tuned for handling tough terrain, and there is no better weekend activity than hitting the trails. Of course, off-roading takes a little practice and know-how—read on for helpful tips, whether this is your first or hundredth off-roading experience.
Listen to the experts
Off-roading may seem as simple as driving on the dirt, but, in reality, off-roading requires plenty of muscle memory and strategy. Just like driving a stick, it can take some time and guidance to build the "feel" for off-roading. The absolute piece of advice is to find a teacher—a fellow Jeep enthusiast who can show you the ropes. And while on the trails, make sure to stay smart and safe, wearing the proper gear and knowing your own limits.
While off-roading, speed is not the overall goal. Putting the pedal to the metal can be harmful to your vehicle and, at worst, dangerous. Off-roading is less about getting somewhere quickly, and more about getting there tactically and safely, feeling every grip and groove along the way.
Getting started
When you're just starting out, take it slow! Find a relatively easy path to begin on, and thoroughly scout it out before embarking. Is this path too difficult for your Jeep? Do you have the horsepower to climb the biggest hill? If not, it might be time to find something lower-level.
Lateral inclines are some of the trickiest obstacles for off-roading. Always take them straight on, never at an angle. If you start to slide down, or worse you start to tilt, slowly and carefully reverse back down the hill.
Sand and snow are common hazards while off-roading. Both benefit greatly from slightly lower tire pressure and high-range four-wheel drive. Going through water or mud? Make sure your car is equipped with a snorkel, or else don't ever go deeper than your front bumper.
Above all else, be prepared! Have an emergency phone or, better yet, an experienced guide to help navigate you. Extra gasoline, an air pressure gauge, blankets, water—anything you might need in an emergency is a great idea to take. Use high-quality straps or ratchets to secure everything. You never know when the road might get bumpy!
Know your vehicle
Jeep is the undisputed king of off-roading vehicles, but that doesn't mean that every Jeep is perfectly suited for off-roading. The Jeep Wrangler is the most famous 4×4 SUV for off-roading, and for good reason! Since its release, nobody has dethroned it. And as Jeep pushes into the world of Jeep EV's, even more power and ability is yet to come.
Visit Ray CDJR today
Looking for a Jeep dealer near me? Are you interested in off-roading? Maybe, you are looking for a best-in-class vehicle that continues to push the boundaries of engineering and car manufacturing? Here at Ray Chrysler Dodge Jeep Ram, we have both.  With a wide selection of Jeep vehicles and more on the way, we are prepared and excited to help you try your hands at this exciting pastime. Come find your new Jeep vehicle simply by searching Fox Lake car dealership!