Jeep Pioneers Toward Electric future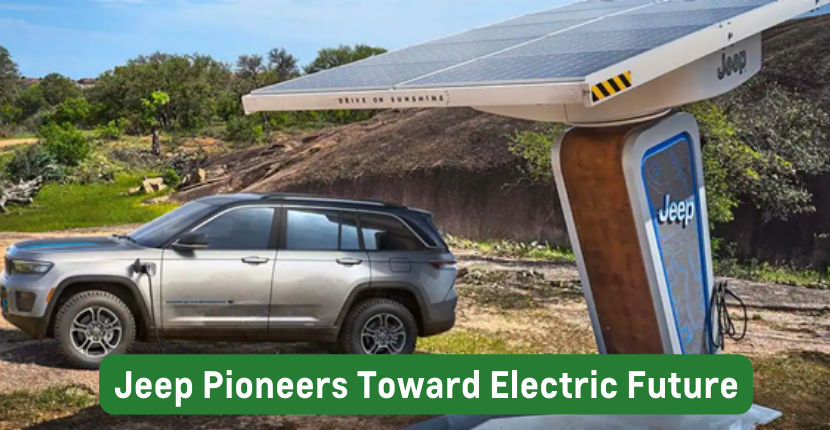 In a revolutionary move, Jeep has recently announced that they will become all-electric within the next ten years! As the world moves further into the 21st century, the time is ripe to make a zero-emissions dream a reality, and Jeep clearly will be a leader in this new, exciting future! In a move keyed "Zero Emission Freedom," Jeep continues its esteemed history of innovation.
So what has Jeep done so far? What are their next steps in the world of electric vehicles? Keep reading to find out!
Dipping their toes…
Of course, no good thing happens immediately! Luckily, Jeep has already started building a reputation in the realm of electric vehicles with their highly-rated and expertly-crafted hybrid vehicles. Thanks to Jeep's E-Hybrid propulsion system, customers enjoy an authentic hybrid experience without even noticing it! Seamlessly switching between electric and combustion propulsion, Jeep's smart e-Hybrid system effortlessly eases drivers into an emissions-free future. Already available on the Jeep Compass and Renegade, e-Hybrid will continue to be rolled out across the Jeep fleet.
Power up!
"Go Anywhere, Do Anything" has long been the mantra of the Jeep. With the 4xe Compass, Renegade, Grand Cherokee, and Wrangler, this claim is truer than ever. When the going gets tough, 4xe Jeep vehicles activate impressive propulsion systems on both axes, delivering 250 NM of torque instantly. Planet-friendly and powerful, the Jeep Wrangler 4xe conquers any terrain. As a monument to Jeep's commitment to zero emissions, Jeep has even installed solar-powered charging systems in some of the most remote areas in the United States, keeping you on the trails. Time for a drive in the city? 4xe vehicles intuitively switch to 100% electric mode, clearing the air where it needs it most.
Take the dive…
For Jeep, 2023 cannot come soon enough. Next year, Jeep will be releasing its first-ever all-electric vehicle. While we don't know much yet, the 2023 Jeep EV will be an SUV similar to the Jeep Compass and, more importantly, authentically zero-emission. Fan of the classic Jeep lineup? Jeep has pledged that fully electric versions of all of its models will be available in 2025. If you're a fan of Wrangler's, the electric version is slated for a 2024 release.
Get ahead of the curve!
While we have to wait a little longer for a true Jeep electric vehicle, the current lineup of celebrated Jeep hybrids is available now! Whether you want the power of the 4xe or the effortless hybrid-driving experience of the e-Hybrid system, Jeep has a car to fit you. Here at Ray Chrysler Dodge Jeep Ram, we are thrilled to watch Jeep's new advancements. With a wide stock of Jeep hybrids, we are ready to address all of Fox Lake Jeep needs. Finding us is easy: simply search Jeep dealer near me and come see what Jeep has to offer! Let Ray CDJR be your Fox Lake Car Dealer!