Jeep Smart Vehicle Assistance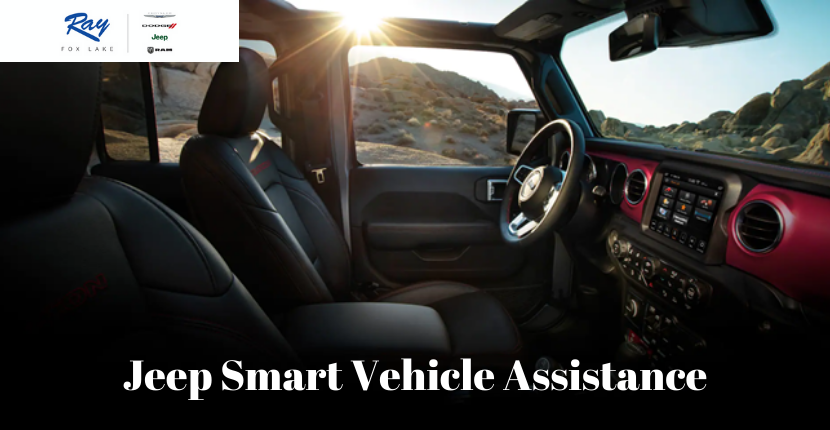 Driving is only getting safer and easier thanks to a range of driver assistance technologies. One of these amazing new technologies is built into every Chrysler Dodge Jeep Ram vehicle. For more information on this tech, give Ray CDJR a call, or read on to learn about what is Jeep Smart Vehicle Assistance.
Jeep Smart Vehicle Assistance
With Jeep Smart Vehicle Assistance, up to five users can create individual profiles. This enables family members to set their preferences for the operation of the car and tailor the app to their musical tastes. Mom and Dad can choose their preferred seating positions while their driving-age kids have their own. This is a big time saver when you're driving after another person who has readjusted mirrors placement and seating position. The driver can also set their preferred temperature. All this is accomplished through the Jeep uConnect app which groups functions together so they can be accessed in one spot on your smartphone's home screen.
Another feature of the Uconnect mobile app can be a lifesaver in an emergency. If the driver gets into an accident or breaks down on the side of the road, their Jeep can automatically place a call for help. As well, the Stolen Vehicle Assistance feature assists the police in tracking the vehicle should it ever be stolen. Parents appreciate Family Drive Alerts which allows them to monitor the speed limits of teen drivers.
Key Functions
The Jeep Smart Vehicle Assistance available through the Uconnetect provides drivers with a variety of functions that make driving easier.
Voice Recognition
Uconnect features an advanced voice system that responds to voice commands even when background noise levels are high. Simply "wake up" the system with a specific preprogrammed word and initiate the voice recognition system. No need to press a button.
Alexa Integration
For even greater driving ease, use Alexa to perform tasks for you. Ask Alexa to unlock your vehicle and start the ignition. Ask her to start a playlist or play a podcast, and give you weather and traffic updates before you start your commute. Do it all through the audio system.
Navigation
Navigation is getting easier thanks to smart assistance. A built-in TomTom navigation system allows users to start a search by phone or voice. TomTom also provides an ETA based on up-to-date traffic and road conditions and suggests alternate routes to save time. Use the feature to find the Jeep dealer near me.
Learn More from Ray CDJR
Come visit the best of the Fox Lake dealerships, Ray Chrysler Dodge Jeep & Ram. We're here at 23 N. US-12 in Fox Lake, IL. Call our sales department at 844-351-7490 or visit us in person Monday thru Friday, 9 am to 9 pm and Saturdays from 9 am to 7 am.