How To Prep Your Jeep for Spring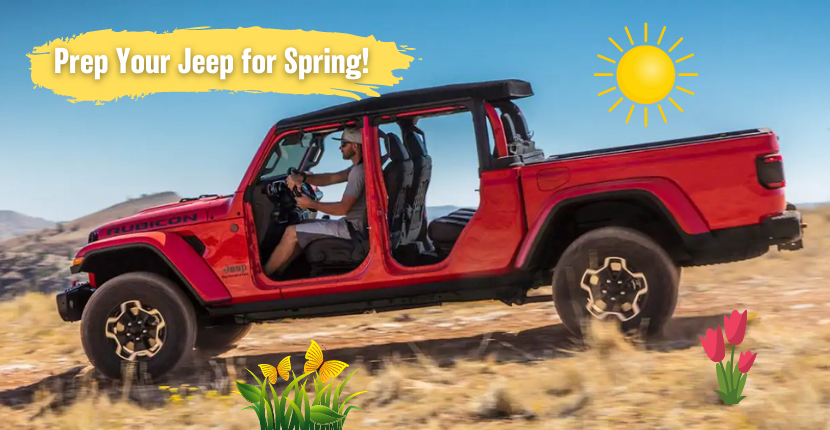 With the weather getting warmer, there is no better time to be a Jeep owner. Spring means that you can return to your favorite fun outdoor activities like off-roading, hiking, camping, or even going to the beach to catch a tan if you're lucky! Ray Chrysler Dodge Jeep Ram is here to help you prepare for spring with some helpful tips to make sure your Jeep is ready for all of your new adventures.
Take Your Doors Off
What is cooler than driving around in your Jeep without doors? The best part about being a Jeep owner is the freedom to style and customize your vehicle in the way that fits your life. With spring comes time to take your doors off, especially if you are a fan of outdoor adventures. To find out how to take the doors off your Jeep, make sure to follow the manual to safely remove them so you can feel some extra freedom while you drive to your next destination.
Get Your Car Washed
Nothing is better than admiring your vehicle fresh after a car wash. Winter climates can be harsh on your Jeep, so taking great care of its exterior is a must. It is important to know that it may not be enough to just wash the outside of your car. To prepare for spring, make sure to remove salt residue and any other dirt from the undercarriage with a power washer. Refresh your car with a nice wash and if you have a soft top on your vehicle, make sure to give that a solid clean as well.
Clean Water Channels
Running behind your interior trim are water channels that are essential to your Jeep's performance. Dirt and small debris can make their way into the moving parts of your vehicle, so it is important to regularly flush these channels out. Use an air compressor to prevent water and rainfall from clogging these channels in the future. Refer to your Jeep's manual to find out how to access these water channels.
Tires and Alignment
Improve your Jeep's performance by getting a springtime preventative tire check. It is important to upkeep your tires, no matter if you utilize all-season tires or switch between sets in the summer and winter. When you take your car into a Jeep dealership near you, our trained technicians will assess your tire air pressure, measure wear, and ensure that your tires are ready to take you wherever you need to go. If you love off-roading, you should especially consider having the alignment checked on your vehicle. Preventative checks can also save you money on maintenance in the future.
Time to Prepare for Spring
Jeeps are wonderful all year round, but there is no better time to drive your Jeep than in the spring. Are you looking for a "Jeep dealer near me"? Check out Ray CDJR, your top dealership out of the Fox Lake car dealers.