Tips for Driving a 4×4 Truck in the Snow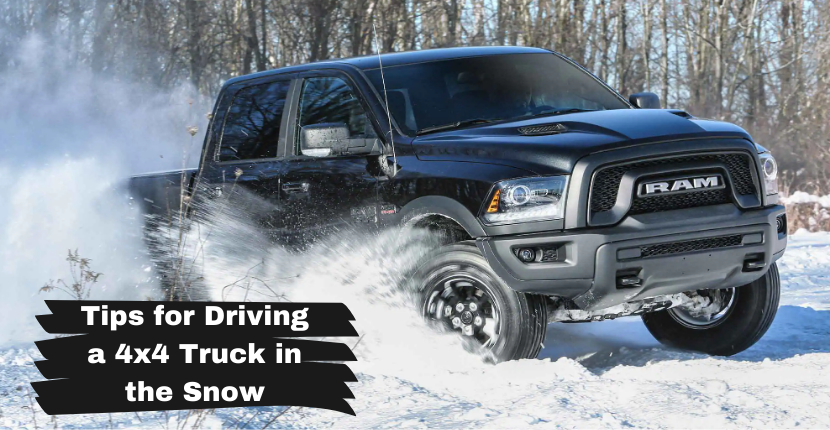 With winter approaching, you may be wondering how to drive on snowy roads. When it comes to driving in the winter weather, others may assume four-wheel drive systems will be enough to face the snowy and icy roads. So, how does front wheel drive handle snow? Well, it is helpful with 4×4 traction for sure, but it isn't the only thing you should be concerned about this winter. Here are some tips for driving in the show with your 4×4 truck: 
Turn Off Traction Control
When possible, turning off your traction control system can be a good idea. A normal side effect of this system is bringing your truck to a stop if the tires start spinning, but when you're on a snowy or icy hill, this is going to be a major problem. If you can't turn it off for whatever reason, try to increase your speed to gain momentum without punching the acceleration so hard that you lose control of your vehicle. 
Shift into Two-Wheel Drive 
Driving rear wheel drive in snow is actually sometimes the preferred option. For example, if you're moving slowly down a hill in a low gear, you may lose control of your vehicle as the momentum of the truck makes the front wheels slide. This is especially hazardous in icy conditions. In this case, shifting into two-wheel drive allows the rear wheels to slow the truck while the front wheels keep rolling, which will enable you to keep control.
On many of today's vehicles, the four-wheel drive system is automatic. An automatic four-wheel drive system normally operates in two-wheel drive until the system deems four-wheel drive is necessary. This generally happens when the system experiences slipping wheels, and it responds by automatically routing power to all four wheels, varying the ratio between the front and rear axles as needed. 
Drive on Matching Tires  
It is always important to drive with matching tires, especially so during the winter. When tires differ in size or tread pattern, you will likely experience handling problems and potentially damage to your vehicle. This is true for any system that your vehicle is equipped with, whether full-time or part-time four-wheel drive systems or all-wheel drive systems. If you're nearing a tire replacement, it is a good idea to consider buying special winter tires as the winter weather draws closer. 
Driving In Snowy Conditions
Lastly, here are some tips for handling whilst driving in the snow: 
If possible, practicing maneuvering on a slick surface with your truck in an empty parking lot covered in snow can help you handle your vehicle better when you're out on the road. 

When you've accidentally taken a curve or turn too fast on a snowy road, the truck' front wheels can corkscrew, which will result in your truck sliding forward instead of turning. To deal with this properly, let up on the gas a bit to allow your car to drift in the direction you're aiming at. 

Don't get too overconfident just because you have four-wheel drive. This type of system is designed to help your vehicle move in the snow, not slow down or stop. 
If you're looking for the best Ram pickup trucks in the snow, we've got your covered at Ray Chrysler Dodge Jeep Ram. Visit us in Fox Lake to test drive a pickup or schedule pre-winter maintenance today!