Toys for Tots Event with Jeep on the Run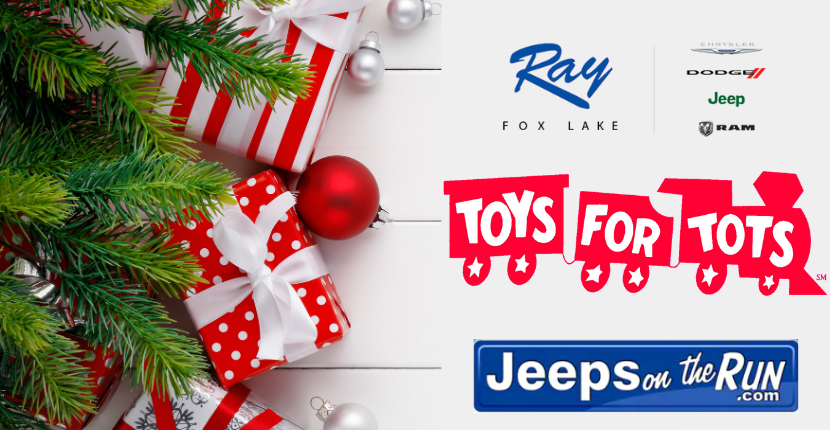 On Sunday, December 6, Ray Chrysler Dodge Jeep Ram (CDJR) of Fox Lake will be hosting a Toys for Tots event with Jeep on the Run. During this Jeeps on the Run 2020 event, participants will be donating to a great cause with all proceeds being donated to Toys for Tots locally. The event will also offer many great raffle prizes and goodies. To get your raffle tickets, make sure you purchase them ahead of time online here for a chance to win an all-new 2021 Jeep JL! Purchasing a raffle ticket is a great way to participate if you don't have a Jeep. ALL Jeeps are welcome, kids are welcome, and registration price is PER JEEP, regardless of your passenger quantity.
About Toys for Tots
Founded in 1947 by U.S. Marine reservist Major Bill Hendricks, Toys for Tots is a program run by the United States Marine Corps Reserve with the goal of distributing toys to children who have parents who cannot afford to buy them gifts for Christmas. The organization generally assists children up to age 12, but in many local communities, local support is that the age limit may be extended. While Toys for Tots does not publish a list of appropriate toys to donate, they encourage donors to be creative in considering what might be appropriate for a child they know, such as their own children or a niece/nephew. Please note: Toys for Tots prefers not to accept realistic looking weapons and gifts with food. If donated, such items will NOT be distributed.
Although this year will be a little different due to COVID-19 changes, it is a great opportunity to help our local kids and make their holidays wonderful this year. COVID-19 has hit everyone hard, and this year, many children whose parents have faced economic hardship due to the pandemic will be in even greater need during the holiday season. Please join us in making sure every child has a special holiday this year. 
Overview of the Event
Here's what the day will look like: Each Jeep vehicle with a minimum of one unwrapped toy to donate will gather at Ray CDJR in Fox Lake (note: you must register online before the event and bring your printed ticket). In order to maintain health and safety guidelines, everyone will remain in their Jeeps, and we'll raffle off the 2021 Jeep JL on Facebook Live. Then, we will have a police escort to our donation location (to be announced shortly) where there will be United States Marines waiting to collect the donated toys. It will be preset up with convenient lanes to pull through where our team will remove your donations from the back of your Jeep as you pass through. You can purchase t-shirt, hoodies, and flags beforehand to show your support on the day. 
This is a great way to show off your Jeep pride while supporting children who need a little extra help. Ray CJDR is proud to host Toys for Tots with Jeep on the Run for such an important cause. Not only will you be helping others out, but you also have a chance to win some amazing raffle prizes. If you want to participate but don't currently own a Jeep, we here at Ray CJDR are here to help! Visit our website or stop in today to learn more about all of the amazing things a Jeep has to offer!