Spooky Orange Halloween Cars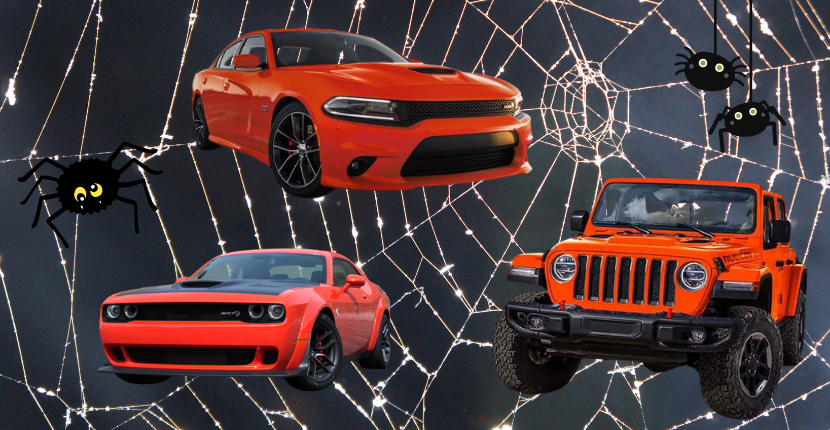 As a kid, you probably dressed up to go trick or treating every year. You would wander around the neighborhood and try to collect as much candy as possible. As an adult, you have to find a different way to celebrate Halloween. This year, you could celebrate by having a spooky orange vehicle. Below, we have some Dodge and Jeep vehicles that can be found in a great Halloween orange color that could help you celebrate the season and stand out in a crowd. Check them out below.
Dodge Challenger SRT Hellcat Redeye
If you are looking for a performance vehicle, the Dodge Challenger is a great option. This vehicle looks fierce and performs well for you. The SRT Hellcat Redeye model is the most powerful option for the Challenger. It has a supercharged 6.2-liter V8 engine that gives you 797-horsepower and 707 pound-feet of torque. This vehicle also has features like premium leather upholstery, heated seats, a heated steering wheel, a Uconnect infotainment system, and more.
Dodge Charger SRT Hellcat
The Dodge Charger is a large sedan, but this vehicle becomes a muscle car when you choose some of the upper-level trim options like the Hellcat. The Dodge Charger SRT Hellcat is home to a supercharged 6.2-liter engine that gives you 717-horsepower and 650 pound-feet of torque. This vehicle can get you from zero to 60 in around 3 seconds. This vehicle has a top speed of 193 miles per hour, so it can make all your speed dreams come true.
Jeep Wrangler
Jeep vehicles are off-road enthusiasts and very adventure-capable. These vehicles also have a great style to offer you. The Jeep Wrangler can be found with a 3.6-liter V6 engine, a 2.0-liter turbocharged four-cylinder, or a 3.0-liter turbodiesel engine option. This vehicle has off-road features like tow hooks, locking differentials, skid plates, traction management systems, and more.