Check Out Jeep's New Three-Row SUV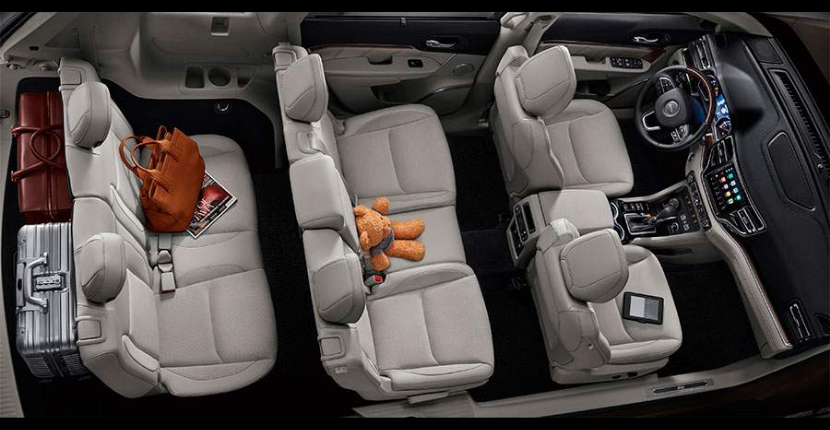 Will there be a new Jeep vehicle with three rows of seating? Jeep has offered some great SUVs throughout the years, but currently, in the United States market, there are no three-row Jeep SUVs. All the Jeep SUVs have just two rows of seating with seating for up to five passengers. However, it has recently been suggested that Jeep is creating a new three-row SUV.
In the Chinese market, Jeep has a three-row Grand Commander SUV, but this SUV is not currently available in the United States. Jeep is looking to expand their lineup by offering a new three-row SUV, but we do not have a lot of details about this vehicle yet.
According to Automotive News, "Jeep has not offered a three-row SUV since the Commander was dropped in 2010. The new three-row SUV will be positioned alongside a redesigned Grand Cherokee, but it is expected to carry a new nameplate. The prototype is based on a Grand Cherokee, but the exhaust was rerouted to make room for an external spare tire, seen mounted in the middle of the three-row model's undercarriage. The spare-tire move freed up space for the third row of seats."
This new Jeep SUV could be a great addition to their already great lineup. Jeep vehicles are great because they offer you multiple engine options, off-road features, great technology, and a rugged style. It would be great to get a Jeep that offers you slightly more passenger capacity so that you can have a fun vehicle and a family-friendly option all in one. More details for this new three-row Jeep SUV should be on their way to you soon. In the meantime, you can check out some of the Jeep vehicles that are currently for sale.
Ray Jeep is a Jeep dealership near me, and we have a great selection of new and used Jeep SUVs for sale. While we wait for a three-row Jeep SUV to come to the United States, you can check out some of Jeep's great two-row SUVs. The Jeep Grand Cherokee is a popular vehicle that has a great interior and a five-person seating capacity. With this vehicle, you get plenty of great technology.
You could also choose to check out the Jeep Wrangler, which is known for its off-road capability. The Wrangler has multiple 4×4 systems so that you can customize your off-road performance, and it has features like hill descent control, off-road tires, a limited-slip differential, and more.