Here's Your Chance to Design the Next Jeep Easter Egg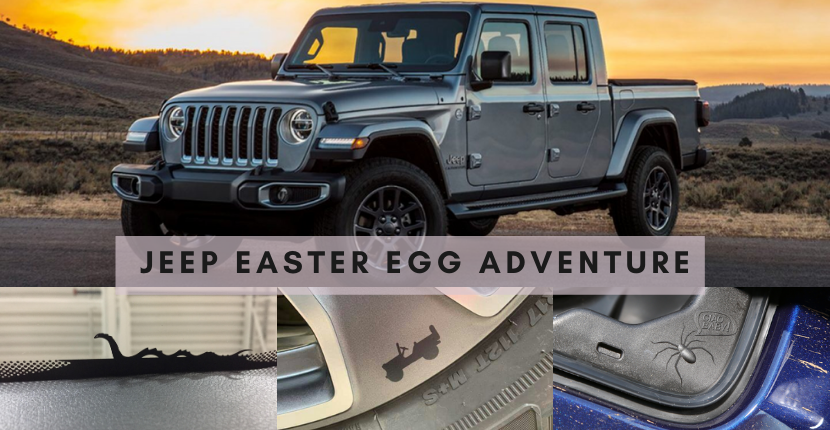 For many years, Jeep has been hiding different designs and patterns in their vehicles. They call these hidden designs Easter eggs. Jeep owners have enjoyed looking for the different hidden designs in their vehicles over the years, and now Jeep wants to include those fans in the design process. Learn more about all of this below.
The hidden designs in Jeep vehicles can be anything from carvings of animals to small paintings. In the past, people have found spiders, maps, Jeep grille outlines, lizards, trail coordinates, and more as Easter eggs on their Jeep. Now, there is a contest going on for people to design the next Jeep Easter eggs.
Muscle Cars and Trucks describes the beginning of Jeep Easter egg use: "They started back with the 2011 Jeep Grand Cherokee headlights. Instead of plain silver headlight bulb shields, they had a tiny jeep grille on them. Fans loved the special touch, and the Jeep Easter egg was born. Recently, the JL Jeep Wrangler too it to a new level, with almost every part of the car containing some special touch. But Jeep is tired of making their own Easter eggs, and wants their dedicated fan-base to create one for a future Jeep vehicle. Better yet, Jeep is rewarding the winner of the contest with a brand-new Jeep of their choice."
Jeep has four main criteria for judging this contest. It must be creative, similar to the Easter eggs that are currently riddled all over current Jeep models. It must be well thought out and clearly visible. It also must be an original design, it can't piggyback off existing designs. As stated earlier, the winning Easter egg will appear on the upcoming Jeep model. Jeep doesn't mention what that model will be, it'll just be a waiting game until then!
Easter eggs are fun parts of the Jeep Wrangler and many other Jeep vehicles, but they are not they only great things about Jeep SUVs. Jeep vehicles are known for their off-road capability, so if you want to take to the trail or go on an adventure, this type of vehicle could be right for you. Jeep vehicles have off-road capabilities like different 4×4 systems, great ground clearance, hill descent control, limited slip differential, and more. All of these features and more can give you the performance you want.
At Fox Lake Jeep, we have a lot of great Jeep vehicles for sale near Fox Lake. We offer you great deals on off-road favorites like the Jeep Cherokee and Jeep Wrangler. We also have a wide selection of other new and used Jeep vehicles for sale. You can upgrade your Jeep and search for your very own Easter eggs.
If you want to take a test drive of a Jeep vehicle today, you can come down to Ray CDJR. We are a Jeep dealership near me, and we are ready to help you find the perfect vehicle.