Special Anniversary Edition of the Chrysler Pacifica and Dodge Grand Caravan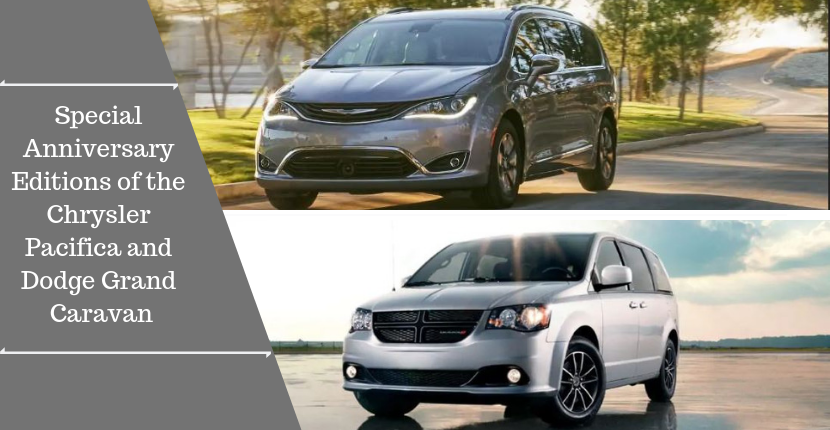 Fiat Chrysler has done a lot for the minivan segment, and now, the minivan has been going strong for 35 years.
According to Roadshow, "Fiat Chrysler Automobiles sold more than 270,000 minivans in 2018 giving it a 55 percent market share in the segment. Fitting as FCA originally gave birth to the class back in 1984. Since then it's rolled out thoughtful innovations such as Stow 'n Go seating and brought the first hybrid model to market with the Chrysler Pacifica Hybrid."
Since FCA started the minivan segment in 1984, they are celebrating the 35th anniversary with style. To celebrate this anniversary, Chrysler is creating 35th-anniversary editions of the Chrysler Pacifica and Dodge Grand Caravan.
What can you expect from the 35th anniversary Pacifica? The Pacifica Touring L, Tour L Plus, and Limited trims will have an anniversary package available. This anniversary package will include an exterior 35th-anniversary badge on the front fascia and rear liftgate. This package will also include a black interior with Nappa leather seats that have Cranberry Wine accent stitching. This package will also have the 35th-anniversary logo embroidered into the front floor mats.
The Dodge Grand Caravan will also have 35th-anniversary style upgrades available on the SE and SXT trims. On the Grand Caravan, the changes will include 17-inch silver aluminum wheels, 35th-anniversary grille, and fender badges, Cranberry Wine stitching, and a black interior. The Dodge Grand Caravan will also feature a piano black console.
Roadshow tells us, "The 2019 Chrysler Pacifica and Dodge Grand Caravan 35th Anniversary Edition will go on sale this summer. Pricing isn't available yet, but a drastic price increase of the regular models likely isn't in the cards. For reference, the 2019 Chrysler Pacifica Touring L begins at $37,790, including $1,495 for the destination, while the full-zoot Limited starts at $45,940. A 2019 Grand Caravan SE stickers at $28,145, including $1,495 destination and Grand Caravan SXT with standard navigation punches in at $33,645."
If you are interested in vehicles like the Chrysler Pacifica or Dodge Grand Caravan, you should come down to Ray CDJR—your Fox Lake Chrysler dealer. We have 2018 Chrysler models for sale that you can test drive today.
Ray CDJR is a Chrysler dealership near you. We have a great selection of vehicles for sale including the Chrysler Pacifica. Stop by to check out our selection today.